Attractions in Stockholm
Price information below is only intended as an example, there can be several kinds of discounts offered not covered here. Many museums has discounts for senior citizens and students. Those price are not present here, so see each museums own website for full information.
Vasa museum
The Vasa ship made her maiden voyage on the 10:th of augutst 1628. This was the first and last voyage for this ship that sank on her maiden voyage. The ship was raised from the bottom of the baltic sea in 1961. Today the Vasa museum is among the most popular museums in Stockholm. The king Gustav II Adolf let build the Vasa ship. Gustav II Adolf was one of the Swedish king who was in war with neighbouring countries like Russia and Poland. The Vasa ship was equipped with 64 cannons and was built for 300 soldiers. The ships total length is 69 meters. Guided tours are offered in English language.
Entrance:
Adults 130 SEK, kids and youths up to 18 years free entrance.
Webbsite:
Vasa Museum
Address:
Galärvarvsvägen 14
Vasa museum, the number 1 museum in Stockholm among foreign visitors.
Museum of August Strindberg
August Strindberg is one of the most known authors from Sweden. Strindberg is known for works like Miss Julie and the Red room. The museum is housed the appartment on Drottninggatan 85 where Strindberg lived between 1908-1912. The most furniture in the museum are original furniture from when Strindberg lived in the appartment.
Webbsite:
www.stringdbergsmuseet.se
Address:
Drottninggatan 85
Metro:
Rådmansgatan, exit to Sveavägen/Tegnérgatan
Nationalmuseum
The National Museum has paintings and other art from the 1500s until the 1900s. The museum was built in 1866. The National Museum has paintings by Rembrandt, by Swedish artists Zorn and Roslin and a collection of Russian icons. The museum is closed for renovation and will reopen in 2017.
Info:
Entrance is 100 SEK. Free entrance under 21 years.
Website:
www.nationalmuseum.se
Address:
Södra Blasieholmshamnen
Metro:
Kungsträdgården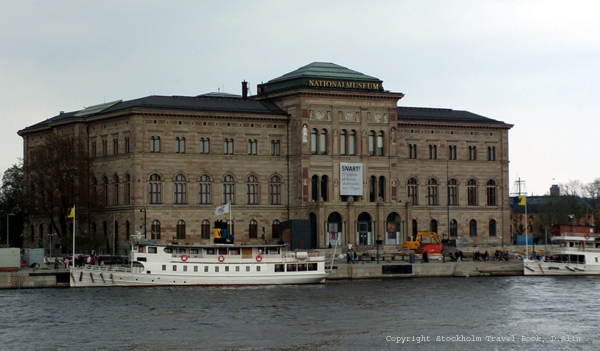 The National Museum in Stockholm.
Moderna museet
The Modern museum has collections from 1900 to present, including about 5,000 paintings, sculptures and installations but also watercolours, drawings, photos, etc.
Entrance:
120 kronor, fri entre tom 18 år.
Website:
www.modernamuseet.se
Address:
Exercisplan, Skeppsholmen
Metro:
Kungsträdgården
Historiska museet
The Swedish History Museum has historical artefacts from Sweden. Here one can see artefacts from the antiqe to the Middle age.
Entrance:
Adults 80 kronor, free entrance for kids and youths to 18 year
Website:
www.historiska.se
Address:
Narvavägen 13–17
Metro:
Karlaplan/Östermalmstorg
Naturhistoriska riksmuseet och Cosmonova
The Natural History musem has about 10 million objects with a focus on science. Here one can find objects collected by people such as Carl von Linné, Sven Hedin and Adolf Erik Nordenskiöld. The present building was built between 1907-1916 but the collection of the museum's objects began back in the mid 1700s. A popular part of the museum is Cosmonova. A dome-shaped theater equipped with systems like an IMAX projector for 70mm film. Cosmonova shows science films about Arctic animals, sharks and more.
Enntrance:
Exhibition - Adults 100 SEK, kids 5-18 years free entrance
Cosmonova - Adults 100 SEK, kids 5-18 years 50 SEK
Dualticket - Adkults 100 SEK, kids 5-18 years 50 SEK
Webbsida:
www.nrm.se/
Address:
Frescativägen 40
Metro:
Universitetet
Abba the museum
Roxette, Europe, Ace of Base and Vacuum are all Swedish groups that been really popular worldwide. The most popular Swedish group ever though is Abba. Abba are known for such songs as Dancing Queen, Mama Mia, Knowing Me Knowing you, Waterloo and Ring Ring. The group is said to have sold more than 400 million albums in total. At Abba the museum there is flashing dancefloor, original Abba costumes, Benny's Piano and much more to see. The museum does not take cash. Tickets are best to book in advance.
Entrance:
Adults 100 SEK, kids 6-15 years 145 SEK/50 SEK for one kid per adult. Payment only by card.
Website:
www.abbathemuseum.com
Address:
Djurgårdsvägen 68
Metro:
Karlaplan (ca 1,5 km)
The Royal Palace
The Royal Palace is the king's official residence. The castle is centrally located in the Stockholm Old Town. Here are state rooms, exhibitions, museums, the castle church, the Bernadotte Library and much more.
Entrance:
Adults 150 SEK, kids 7-17 years and students 75 SEK
Website:
www.kungahuset.se
Address:
Slottsbacken 1
Metro:
Gamla stan
Stockholm Royal Palace the official residence of the Swedish king.
Drottningsholm Palace
Drottningholm Palace was built in the 1600s and today this castle is the home residence of the king and the queen. Drottningholm Palace is on UNESCO's World Heritage list. At the Drottningholm Palace there is the baroque garden, the Tessin cascade and also the Drottningholm Palace Café and Palace theatre as well as Museuem de Vries.
Entrance:
Adults 100 SEK, kids 7-18 years and students 50 SEK
Website:
www.kungahuset.se/kungligaslotten/drottningholmsslott
Address:
Drottningholm
Metro:
Brommaplan and from there go by bus 301–323, 176 or 177 to Drottningholm
The Butterfly House in Haga park
he Butterfly House in Haga park is best described as an tropic rainforrest in the city. The Butterfly Museum has 3000 square meters of tropic surroundings. The temperature here is always around 25 degres. There is more than 700 butterflies in the Butterfly House.
Entrance:
Adults 110 SEK, Pensioners 80 SEK, Youths 16-18 years years 80 SEK, 4-15 years 50 SEK, less than 4 years free entrance.
Website:
www.fjarilshuset.se
Adddress:
Hagaparken
Kaknästornet
The Stockholm TV-tower Kaknästornet is 155 meters high and Stockholm's highest building. From here you have a very good view of Stockholm. Kaknästornet has a café, skybar, veiwpoint and a souvernir shop.
Entrance:
Adults 50 SEK, kids 7-15 years 20 SEK
Website:
www.kaknastornet.se
Address:
Mörka kroken 28-30
Metro:
Karlaplan
Aquaria water museum
Rain forest and tropical seas but also Nordic environment.
Entrance:
Adults 90 SEK, kids 6-15 years 50 SEK, kids: 3-5 years 25 SEK
Info:
Audio guides in English and Russian language
Website:
www.aquaria.se
Address:
Falkenbergsgatan 2
Fotografiska museet
Swedens foremost photo museum offers photo exhibitions. It also offers courses in photography and there is also a café serving food and refreshments.
Website:
www.fotografiska.eu
Address:
Stadsgårdshamnen 22
Metro:
Slussen
---
STOCKHOLM TRAVEL BOOK - SWEDEN
Copyright © 2014, D.Alin
www.stockholmtravelbook.com