Transport in Stockholm
Stockholm has three metrolines which splits into different arms. In adition to the Stockholm metro there is commuter trains, trams and busses to take care of the public transport in Stockholm. Most metro stations outside of the city center is located above the ground.
Foto: Tunnelbana
To use the public transport system in Stockholm one need either a single use ticket or a SL access card. The SL access card can be loaded with travelling funds which is considerably cheaper than usual single use tickets. A single trip paid using travelling funds on a SL access card costs 25 SEK within zone A (all metrostations are within zone A). If buying a single use ticket instead the same trip will cost 36 - 44 SEK. In most cases one has to buy the ticket in advance.
There is also different kind on season tickets that can be added to the SL access card. Most popular ones are 1-day, 3-days, 1-week, 1-month. These costs 115, 230, 300 and 790 SEK. In addition there are 3-month and yearly season tickets as well. It's recommended that one does register the card on SL's website, so that in case the card will be lost one can get a new one.
The SL access card is guilty on all means of pucblic transport. Stockholm public transport is split into three differnt zones. Season tickets is guilty in all three zones. If using single trip tickets or travel fund the price will differ depending on within how many zones one will travel.
All subway stations are within zone A. But if going with other means of transport and not having a season ticket one may have to think about if one will pass from one zone to another. Information on which stations/stops are within which zone can be found on
here
.
Map covering public transport and the different zones:
Map of Stockholm public transportation
It is not possible to pay with cash on busses and subway, so you will always need a SL access card or a prepaid single trip ticket. It is sometimes possible to pay cash on trams and some commuter trains.
Taxi
Going by taxi in Stockholm is relatively expensive. Prices depends on distance, time consumption, day of week and time of the day. Taxi companies is obliged to have a sign showing the prices. A distance of 10 kilometers that takes about 15 minutes cost around 250-375 SEK. It is important that you check the price before getting away with a taxi. There are some less serious taxi companies that charge fantasy sums. There are some people that have had to pay 40 000 SEK just to go from the airport to the city center.
Somre of the more popular taxi companies in Stockholm:
www.taxikurir.se
, phone: 08-30 00 00
www.taxistockholm.se
, phone: 08-15 00 00
www.taxi020.se
, phone: 020-20 20 20
Taxi cars outside Stockholm Central Train Station
0
Train and coaches
Travelling by train from Stockholm is simple since there is only one train station. Stockholm Central Station is in the center of Stockholm. From here trains to other parts of country and further to other European countries are leaving. At Central Station, there is a SJ travel shop where you can buy train tickets for both domestic and European trains. There are also many fast food outlets, kiosks, exchange office, tourist office and a few shops. From the central station you can also go with the Arlanda Express train to Arlanda airport.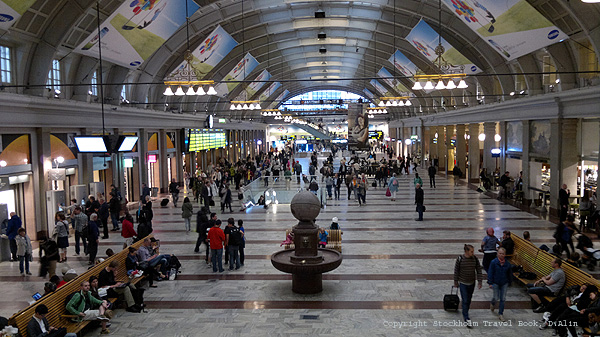 Stockholm Central Station
Above the train station Cityterminalen is located. From Cityterminalen coaches to other parts of Sweden leaves and shuttle buses to Arlanda, Bromma and Skavsta airports. Subway and commuter trains are to be found downstairs from Stockholm Central Station.
SJ travel shop at Stockholm Central Station
How to find in Stockholm
A good idea when coming to Stockholm is to pick up one of many free maps, those can be found at the Stockholm Central Station, Cruise terminals, tourists offices or one of the airports. Do not use 3G data if you do not have a Swedish SIM card with a good data plan to download maps through different map apps. It will usually become very expensive. Users of a Nokia smartphone can advantageously download Swedish maps before leaving and then turn 3G data off. Leaving 3G data on will still mean some data will be transfered using maps even though the map is preinstalled. If not having a Nokia phone with free maps, there are some GPS navigation apps to be bought to other phones as well offering preinstalled maps.
Free maps of Stockholm
Stockholm maps:
Stockholm citymap
Good map to print before departure.
Subway map
Map of Stockholm public transportation
SL Access card
---
STOCKHOLM TRAVEL BOOK - SWEDEN
Copyright © 2014, D.Alin
www.stockholmtravelbook.com