Entertainment in Stockholm
Gröna Lund
Gröna Lund is one of the foremost amusement parks in baltic region. At Gröna Lund you have rides like the 121 meter high Eclipse, the world's highest swing, Freefall (80 meters), Four roller coasters, bumper cars, haunted house, fun house and love tunnel.
Gröna Lund is also host to several concerts during the year. In 2013 such artists like White Snake, The Sounds , Kesha, Bad Religion and Loreen played here. Other famous artists who played at Grona Lund is Bob Marley, Dire Straits, Lady Gaga and Elton John. In addition, there are all the usual offers like food and drinks, cotton candy , popcorn and lotteries.
If you want to try out as many rides as possible a wristband that provides free rides is recommended. Otherwise you can pay per ride. Plenty of time is needed if you want to to try out rides because it is often queues for the rides, especially during the holiday season.
Entre:
100 kronor, more expensive during concerts. Attractions are paid separately.
Webbsida:
www.gronalund.com
Adress:
Allmänna gränd
Tunnelbana:
Karlaplan (ca 1,5 km)
Gröna Lund in Stockholm offers rides like free fall, roller coasters and Eclipse.
Skansen
Skansen is the oldest open-air museum and the only zoo in Stockholm. The zoo park has mainly Nordic animals such as wolves, bears, lynx and mooses. The exotic animalas are made up of monkeys and birds. In addition Skansen also has an aquaarium called Skansenakvariet with snakes, crocodiles, sharks, lizards, spiders etc. Addtional entrance fee has to be paid to visit the aquarium. Skansen has many cultural buildings and several gardens. A christmas market is arranged here ahead of Christmas. Another popular feature is the community singing called Allsång på Skansen, which is very popular among Swedes.
Webbsida:
www.skansen.se
Adress:
Djurgårdsslätten 49-51
Tunnelbana:
Karlaplan (ca 2 km)
Cinema
There are plenty of cinemas in Stockholm. A good thing for everyone not speaking Swedish is that all movies are shown in original language with Swedish subtitles. Children movies are usually shown in Swedish language though. Cinema theaters in Sweden are usually showing only Swedish and English language movies so movies from Russia, India, France, Italy Spain etc are rarely seen in Swedish cinema theaters. For Russian movies there is a yearly Russian movie festival called Kinorurik. Cinemas are usually well equiped but most cinemas were built a long time ago which means they are not as modern as Forum cinemas in Riga and Tallinn or Formula Kino in St Petersburg. Picture and sound quality should always be of high quality. At
www.sf.se
one can find most Cinemas in Stockholm and book tickets.
A few cinemas in central Stockholm
Filmstaden Sergel
, Hötorget
Filmstaden Söder
, Medborgarplatsen
Filmstaden Sergel at Hötorget in Stockholm.
Junibacken
Junibacken is a museum dedicated to the children's book. Karlsson on the Roof, Pippi Longstocking and many other heroes from the childhood is to be found here. Junibacken is one of the most popular museums to visit among Russian tourists. Probably because of the Russians love of Karlsson on the Roof. At Junibacken one can play in Pippi Longstockings house Villa Villerkulla. Junibacken has information in English and Russian on it´s website.
Webbsida:
www.junibacken.se
Adress:
Galärvarvsvägen 8
Tunnelbana: Karlaplan (ca 1 km)
Junibacken, this is where in Stockholm you should go looking for Karlsson on the Roof.
Royal Stockholm Philharmonic Orchestra Stockholm Concert Hall
Stockholm Concert Hall is located in the very center of Stockholm at Hötorget. Stockholm Concert Halls own orchester Royal Stockholm Philharmonic Orchestra performs here but also a lot of guest artists of different kind. Royal Stockholm Philharmonic Orchestra is also attending other events like the Nobele prize award and the Polar Music Prize.
Webbsida:
www.konserthuset.se
Adress:
Hötorget 12/Kungsgatan 43
Tunnelbana:
Hötorget
Stockholm Concert Hall, Royal Stockholm Philharmonic performs here.
Tom Tits Experiment
Tom Tits Experiment is about one hour from Stockholm in the city of Södertälje, once an important city for the medical company Astra Zeneca. At Tom Tits Experiments kids and youths can try out a lot of interesting experiments.
Address:
Storgatan 33, Södertälje
Website:
www.tomtit.se
Bowling, simulatorer m.m.
Ballbreaker
Entertainment hall offering bowling, slot cars, biliard, sport and racing simulators, relax and food. Ballbreaker has two locations in Stockholm, Gärdet and Kungsholmen. See their website to see what activies are on respective location and to see prices.
Adress:
Sandhamnsgatan 59-61
Tunnelbana: Gärdet
Adress:
Lindhagensgatan 114
Tunnelbana: Stadshagen
Webbsida:
www.ballbreaker.se
Marions Gastro Diner
Bowling hall and restaurant. There is is 16 bowling alleys in Marions Gastro dinners. The restaurant has an American theme and serves hamburgers, BBQ, Chicken Wings, Club Sandwich, Grilled beef, Milkshakes etc.
Address:
Kungsgatan 37
Metro:
Hötorget
Website:
www.marionsgastro.se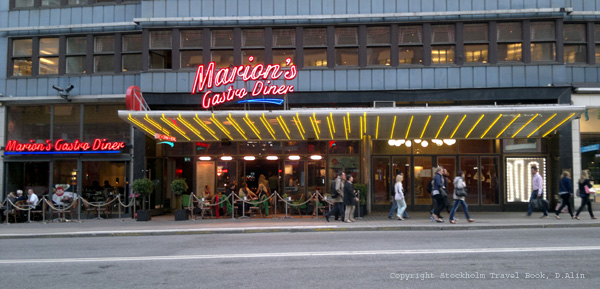 Marions Gastro Diner. Bowling and restaurant in central Stockholm.
---
STOCKHOLM TRAVEL BOOK - SWEDEN
Copyright © 2014, D.Alin
www.stockholmtravelbook.com