Worth to know when visiting Stockholm
ATM´s
There are plenty of ATM´s in the Stockholm and nearly all shops and restaurants accept at least MasterCard/Maestro and Visa/Visa Electron.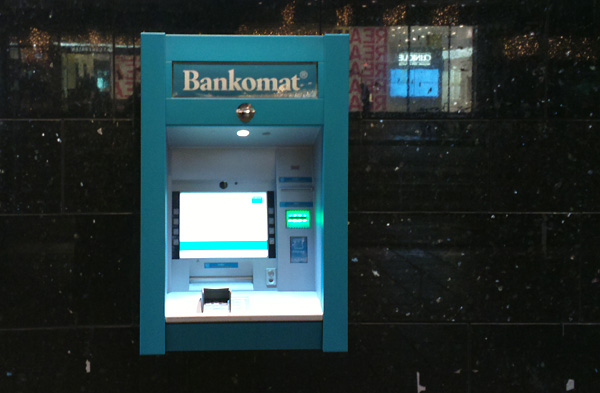 ATM in Stockholm
Currency Exchange
Currency is most easily exchanged an exchange office such as Forex. Exchange offices usually charge a fee to exchange money. The exchange rate can sometimes be really bad, especially for less common curriencies like Belarusian ruble. Some of this curriencies can sometimes be hard to change at all. The situation for more common curriencies like Euro, US Dollars and Russian Rubble are a lot better. In most cases it's better to change before going to Sweden . It can sometimes be more profitible to change in an bank office if big sums should be changed, however most bank offices in Stockholm don't have this service at all. The recommendation is to use ATM's and cards for payment at first-hand.
Drinking water
Tap water is generally of high standard and Swedes drink the water straight from the tap without using a filter or boil water. This often works well but it has also occurred some incidents such as in the city of Östersund where several thousand people became bad of tap water in 2010. It is usually plain tap water included with meals in restaurants' lunch deals. However, there are places where the tap water should not be drunk straight from the tap , this applies primarily to houses with a private well. Water from most privae wells is still possible to drink.
Transport
The subway is the easiest way to get around in Stockholm. There are also two commuter train lines, two tram lines and numerous of bus routes in Stockholm. Read more about this under the Transportation in the menu.
Bridges
Although Stockholm is located on several different islands, there are no bridges that closes to car traffic. All the bridges are open all round the clock.
Time zone
Stockholm as well as the rest of Sweden uses GMT +1. That means theres no time difference to Western Europe except for Great Brittain. Sweden is one hour ahead of Great Britain. Sweden is one hour after Estonia, Latvia and Lithuania and two hours after St. Petersburg and Moscow (three hours in winter).
Post
Letters within European union generally takes 2-3 days. Letters from Stockholm to St Petersburg and Moscow generally takes 4-5 days.
Calling to and from Sweden
Country code for Sweden is 46 and the area code for Stockholm is 08, omit the "0" if calling internationally to Sweden.
Cellular phone
Swedish operators have roaming agreements with most countries. So using an operator from another country through roaming should usually not be a problem. But watch up for the price especially if your main operator is not within European Union, it can be very expensive to use the phone in Sweden then. A good alternative is to buy a pre-paid SIM card when arriving to Sweden. This will be cheaper if you're going to be a long time in Sweden or make many calls. Stockholm Travel Book recommends
Comviq Amigos
or
Comviq Fastpris
No registration is required to purchase these cards. If you want to be able to use the card abroad registration is needed though.

Internet cafe
There is an internet café at the train station in Stockholm . Most hotels and hostels offer Wi-Fi. A good idea still is to invest in a prepaid Swedish SIM card with a data plan to use either with a computer or a smartphone. Stockholm Travel Book recommends
Comviq Amigos
and data plan.
Climate
Stockholm is located on the same degree of latitude as St. Petersburg and Tallinn. There are no large differences in climate between cities like St. Petersburg, Riga, Tallinn and Stockholm. Generally Stockholm si a bit colder in the summer but on the other hand a bit warmer in the winter.
DVD och Blu-ray
Sweden has the same region on DVD and Blu-ray as rest of the European Union including Estonia, Latvia and Lithuania, but not the same as Russia, United States etc. This means that Swedish movies do work on DVD and Blu-ray players intended for the European Union market but not on players intended for the Russian and US market etc unless the player is made region free. Movies bought in Sweden contains with the exception of children's movies, the original language sound and Swedish subtitles. Swedish movies sometimes even have English subtitles.
Print on-demand
English and Russian-language newspapers that are printed on demand can be purchased at the following locations in Stockholm. Single-copy cost from SEK 39.
Stockholm - Press Stop, Flemminggatan 50, Kungsholmen
Stockholm - The English Bookshop, Lilla Nygatan 11, Gamla Stan
Stockholm - The English Shop, Söderhallarna, Södermalm
Security 
Crime and youth violence is unfortunately a common element in Stockholm at night, especially on weekends. The number of police officers in the subway and on the street is noticeably lower than in cities such as Moscow and St. Petersburg. The recommendation is to take a taxi at night, especially if you are alone and do not know the area.
Taxi
Beware of scams. Some swindlers can sometimes charge astronomical prices for a taxi ride. Unfortunately, they does so quite legally. Read more about this under the Transport section on this website.
Medicines and pharmacies
For many drugs you may need a prescription to obtain them in a pharmacy. Most pharmacies close at 18 o'clock some later as 20:00.
Apoteket CW Scheele
, Klarabergsgatan 64 are open 24 hours a day.
Tickets
Tickets for many theater performances, concerts, sporting events is possible to buy at
Ticnet
.
Price examples
Big Mac and Company - 60 SEK
Business lunch with drinks - 85 SEK
Coca-Cola 0,5 l sold in a kiosk - 20 SEK
Chocolate 200g around 20 kr
Cinema ticket - 100 SEK
Beer in a pub or restaurant - 50 SEK
Vodka 1 litre, sold in a store - 350 SEK
Pack of Marlboro - 50 SEK
Travel by metro, tram or bus - 25 SEK
Important Phone Numbers
Ambulance, Police, Fire-brigade
- 112
Information about serious accidents and crises
- 113 13
Police
114 14 (for emergencies call 112)
Information on medical treatment
, 1177 (for ambulance call 112)
Taxikurir
- 08-30 00 00
Taxi Stockholm
- 08-15 00 00
Taxi 020
- 020 -20 20 20
Directory Assistance
- 118 118 (expensive to call, free on Internet)
---
STOCKHOLM TRAVEL BOOK - SWEDEN
Copyright © 2014, D.Alin
www.stockholmtravelbook.com